72 Hours in Denver for Gluten-Free Travelers
Winter Edition
I love to travel, but I can't imagine what it would be like to travel with a food allergy. And, on top of that, end up with recommendations for places where the food tastes like cardboard. With that in mind, I created the following itinerary for Gluten-Free travelers to Denver. Don't worry, you'll eat, drink, and be merry in Denver.
* In order for me to support my blogging activities, I may receive monetary compensation or other types of remuneration for my endorsement, recommendation, testimonial and/or link to any products or services from this blog. Please read my disclosure here.*
Thinking About Starting a Website About Your Favorite Places?
It's pretty simple to do and cheap! Start with Siteground and WordPress.org. With this winning combination you'll own your own website by the end of the day. And, Siteground has easy to follow tutorials to help you with setting up your site. Also, don't forget to grab 120 Awesome Blog Ideas from Ruth Soukup's Elite Blog Academy today
Before You Leave
There are a couple of things that you need to make sure you pick up before arriving in Denver. I call it your "Colorado Travel Kit." And, for Gluten-Free travelers, I've added an additional tool-the Nima Sensor.
Is a handy tool that Gluten-Free individuals can use to check and see the gluten levels in their food. It helps to avoid accidental gluten exposure.
Basically, you but a little piece of food into a capsule, shake the capsule, then pop it into the sensor.
The sensor then checks for gluten levels in the food. Check out the photo below. And, you can grab the Nima Sensor on Amazon today.



Your Colorado Travel Kit
Lotion-Your skin will crack like a dried apple if you don't have some lotion or vaseline with you. Don't be ashy in Denver!
Lip balm-Your lips will also crack if you don't have some lip balm.
Sunblock-Denver is a Mile High! We're a mile above sea level. Protect your skin.
Water Bottle-It is dry here, you'll need to drink more water. Also, drinking more water is helpful in the fight against Altitude Sickness. Yes, you can get it in Denver.
Sunglasses-The sun will sear your eyeballs (I'm kind of messing with you) but, seriously, the sun is really bright here. Everyone wears sunglasses when outside.
Baseball cap-If you're doing anything outside. You may want a baseball cap.
Beanie (Winter Wear) If it's winter, you need a beanie.
Altitude Sickness
Please note: it CAN happen in Denver and it really sucks. Touch base with your doctor if you have any concerns about this. And, in case you're wondering what it feels like-a friend of mine had it this fall and it was bad.
Pounding headache-BAD
Dizziness
Nausea
Now that I've freaked you out, let's have fun in Denver!
Similar Posts
72 Hours in Denver for Gluten-Free Travelers
Getting to downtown Denver from Denver International Airport is incredibly easy. If you've opted to go car-free, or pick up your car in downtown Denver, you can take the train from DIA to Union Station (the last stop). It is a super chill 37 minute ride making about 10 quick stops along the way.
The cost is $10.50 and you can use that ticket all day long around Denver. You could even go to Boulder with that ticket purchase.
Union Station
It's so funny to me that Union Station baffles a lot of travelers. Especially those from the East Coast. They are initially a little weirded out by the fact that people hang out in Union Station.
I know that I do!
It has several restaurants, a hotel, a flower shop, and a coffee shop. Events are regularly held at Union Station and you may find yourself arriving to find Santa, a band, or a private party being hosted in the middle of the Station.
There are public restrooms in there as well. Also, the bus depot is underground, adjacent to Union Station. If you're confused, there is a wonderful gentleman typically stationed at a help booth once you are inside the Station.
Where to Stay in Denver
There are several fantastic hotels in town. But, for this itinerary, I have two hotels in mind:
The Maven-This hotel is two blocks away from Union Station, is adjacent to the Milk Market Food Hall, and it sits on the Dairy Block. There is a lovely alley behind it that you can wander through, go shopping in, and even a speakeasy on the block called Run the Roses. If you like baseball, The Maven is two blocks away from Coors Field, home of the Colorado Rockies. Why I love The Maven

The food is OUTSTANDING in Milk Market!! From Kentucky Red Hot Chicken, Bao, Poke, wood fired pizza, fresh fish, and fresh pasta-the food is so damn good.
Kachina Restaurant-I had a religious food experience there during the summer. The food is phenomenal with a specific focus on Southwestern cuisine.
Huckleberry Roasters- A Colorado local coffee shop with fantastic coffee.
The location-you can't beat it.
The Source Hotel-If you choose to stay here, you will actually get off at the stop BEFORE Union station. The 38th and Blake Station. Then, you will walk over a bridge and 2 blocks in order to get to the hotel. Don't worry-it's super easy. If you're needing help (ADA) you can have the hotel shuttle pick you up at the stop. Make those arrangements in advance. I LOVE The Source Hotel for so many reasons.

I hosted an in-person retreat there and the staff was amazing!
The food is fantastic
There is a hot tub and small pool on the rooftop with a view of the mountains.
There is a food hall in the main building
It has a brewery and the beer is good. By the way, I prefer cider and I loved their beer.
Digital Creators/Travel Bloggers-There is a co-working space called Charley CO for ladies only-sorry guys LOL!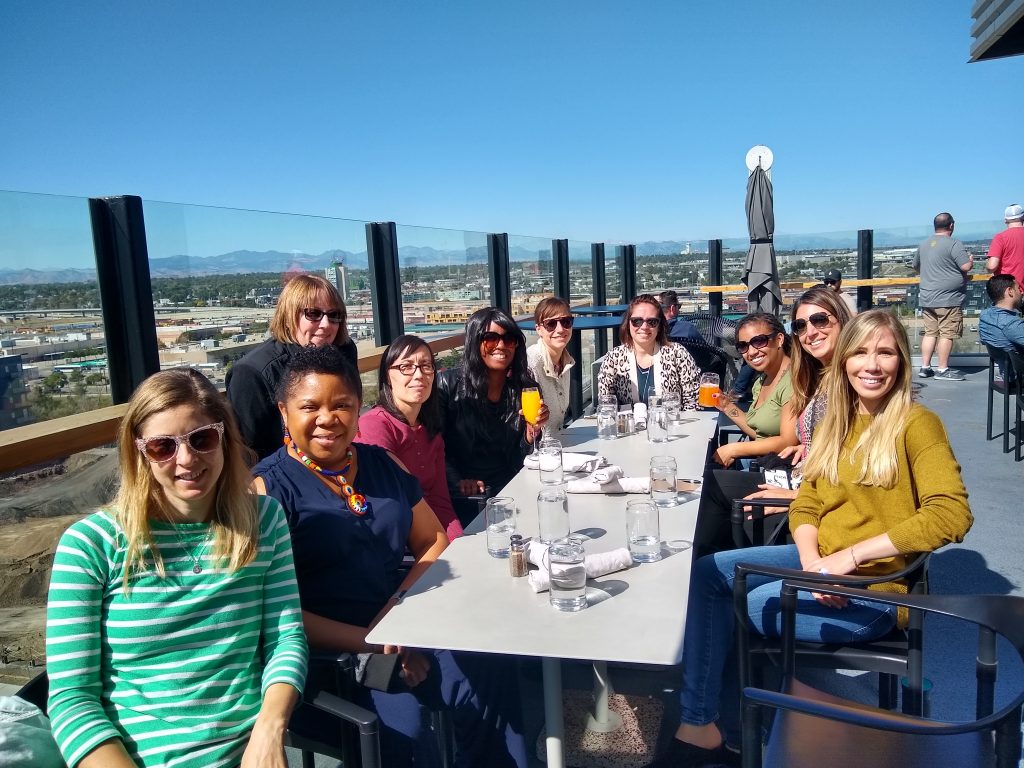 Day #1
Pro-Travel tip for Denver:
About a month before you travel to Denver. Check out the Eventbrite and Facebook events feed for Denver. You may be able to find the following:
Free events
Free co-working days. If not, check out Deskpass which has a great presence in Denver. Start your free co-working trial today.
Unique one off events that only happen during the time of year that you plan on visiting.
Pro-Travel Tip #2 Do Your Own Research
Just because certain restaurants have been shared an listed in this post, don't take my word for it. Do your own research!
Look at the menus
Give the restaurants a quick call
Bring your Nima Sensor
Pro Tip #3 Check Out Denver Local Gluten-Free Information
Check out Jenny Finke's blog "Good For You Gluten-Free" Jenny is a friend of mine here in Denver. In addition to running the Denver Bloggers Club and the Fuel Your Influence Blog Conference, Jenny is known for doing video reviews of local restaurants here in Denver. She also talks extensively about the Nima Sensor as well.
Breakfast 9:00 am (ish)
There are a ton of different places to eat breakfast in Denver, but a gluten-free allergy free breakfast that tastes yummy can be found at Just Be Kitchen, an allergen and refined sugar free restaurant in Denver.
I do not have this allergy, and ate there for a Denver Bloggers Meetup and it was fantastic. There is paid parking next to it and make sure to check out Confluence Park that is next to the restaurant. Depending on the time of year, you may be able to kayak on the river or take a quick trip on the Denver Trolley which is located next to REI.
Or, you can swing over to Snooze which is known for it's incredible breakfast foods. Check out the one located in Union Station.
Denver Art Museum
The Denver Art Museum is incredible. Part of what makes it incredible, is the staff's commitment to bringing unique and one of a kind exhibits to the city of Denver. At the time this post is being written, the only Monet exhibit of its kind in the United States, is currently being shown at the museum.
Previous unique exhibits include:
Dior
Degas
Rembrandt
Jordan Casteel
While you're at the Art Museum, quickly cross the street and check out the Capital Building which is exactly a mile high.
Make your way back downtown and pop into I Heart Denver, a fantastic Colorado local gift shop located in the Denver Pavilions Mall. All of the products are made by Colorado local makers.
W. 41st and Tennyson
This area is one of my favorite places to hang out in Denver. I live on the opposite side of town though, so I make a point of visiting from time to time. Hop into a Lyft and make your way over.
This area is super cute and has coffee shops, restaurants, and a tiny splash of shopping.
It's also home to Vital Root, a 100% gluten-free restaurant with delicious food. They serve brunch/lunch/ and dinner. And, they host a happy hour.
Check out the following places
Book Bar-I'm obsessed with all things related to books. This cozy coffee shop also has a bar and coffee shop. Sip some wine, have some fun conversation, and enjoy the books.
Second Love-One of the prettiest resale shops I've visited. If you're looking for great, sustainable fashion, Second Love is a must visit.
The Yogi Exchange-For Yoga enthusiasts who need more clothes, this place is for you. Gently used yoga clothes and equipment for the win! They are very particular about the items that they accept. The first time I visited, I didn't realize the items were used.
Day #2 Let's Visit Golden and Red Rocks
Golden rests right on the base of the mountains, or the foothills. It's a beautiful town with some amazing history, a cute little downtown area, great hiking and dirt biking if that's your thing.
I'm a hiker so I will share some easy hikes to consider. Golden is about a 30-40 minute drive from Denver after rush hour.
9:00 am
You've grabbed some delicious breakfast from your hotel and not it's time to go to Golden and Red Rocks. No trip to Denver would be complete without one quick excursion into the mountains or almost into the mountains. Golden is at the base of the mountains.
It has a stunning view of Denver, great people, and is home to the Colorado School of Mines and Coors Brewery.
Golden, CO Hike Options
Let's be clear, don't be cute trying to do a hike that you're not physically prepared for. You could end up with Altitude Sickness. With that in mind, I have 3 options for you ranging from easy to difficult.
Before your hike remember the following:
Tell people what trail you'll be on and WHEN.
Bring your Colorado travel kit: lip balm, sunblock, lotion, water, hat, and sunglasses
Bring snacks
Make sure your phone is charged up
Have matches
Toilet paper and a plastic bag. Leave no trace. I know it's gross, but the tp has to leave with you in the plastic bag and be flushed away later. OR, use the bathroom 6 times before the hike LOL!
Shoes appropriate for the type of hike that you're doing. I grew up hiking in tennis shoes. But, because I hike so much now, I do have hiking shoes. The big difference? The tread on the shoes. Hiking shoes tend to have a much heavier tread.
Lunchtime!
If you're lucky, you'll be in Golden on the day that Dedicated Bistro and Bakery Food Truck is at the Holidaily Brewery. Holidaily is an entirely gluten-free brewery and Dedicated Bistro is entirely gluten-free as well.
And, the Dedicated Bistro food truck makes the best fish in chips in the Denver Metro area. Period. Make sure to triple check their schedule to see what day they are at the brewery when you're in town.
Don't also, Holidaily supplies a lot of the gluten-free beer at many of the breweries and restaurants in Denver.
Other Restaurant Suggestions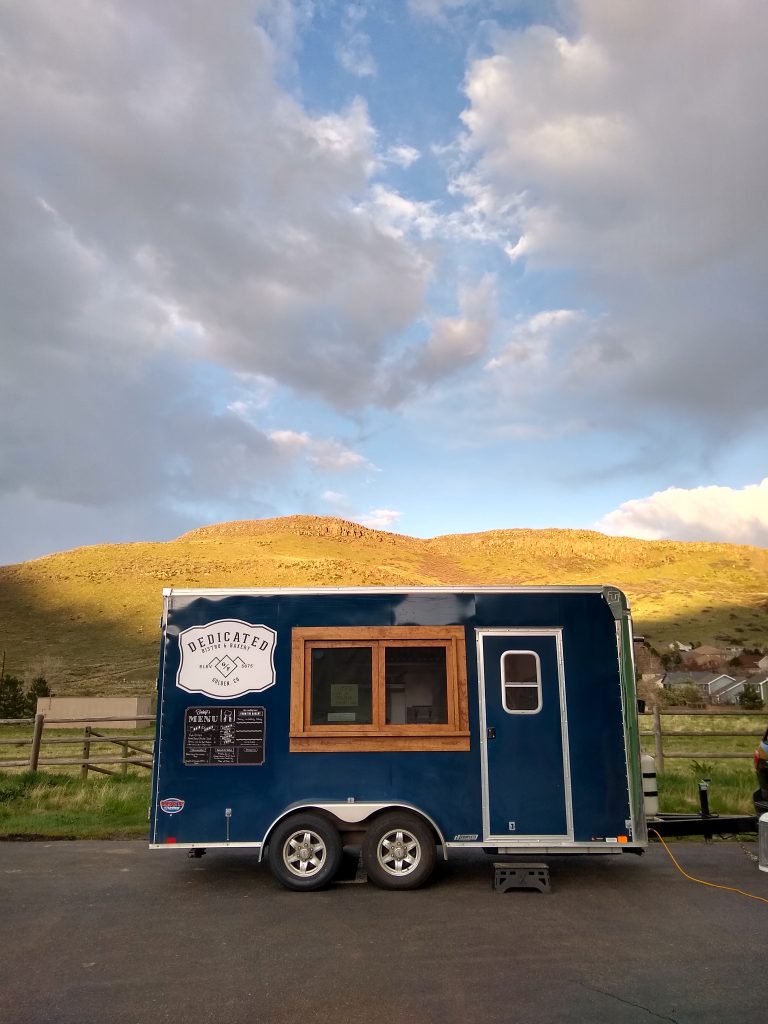 Red Rocks Amphitheater
Once you've eaten, it's time to hop in the car and drive over to Red Rocks. Please, do NOT refer to it as "The Red Rocks" there's no article in front of it.
Just call it Red Rocks.
It's not just a concert venue. Citizens work out daily at Red Rocks, tourists visit, and people just relax and chill there.
During the summertime fun events such as:
Yoga on the Rocks-A phenomenal experience of connecting with your third eye with thousands of other people. Don't worry, it's amazing!
Movies on the Rocks-Watch recently released movies, enjoy a band, and comedy show for around $12 dollars a ticket. Movies on the Rocks is about the only way you'll get me to watch movies now with other people. Because I no longer enjoy going to the theater.
Music Festivals-These happen all year long.
Walk up the stairs, take in the view, and check out the Visitors' Center. I enjoy working out on the theater steps and just sitting and relaxing while checking out the view.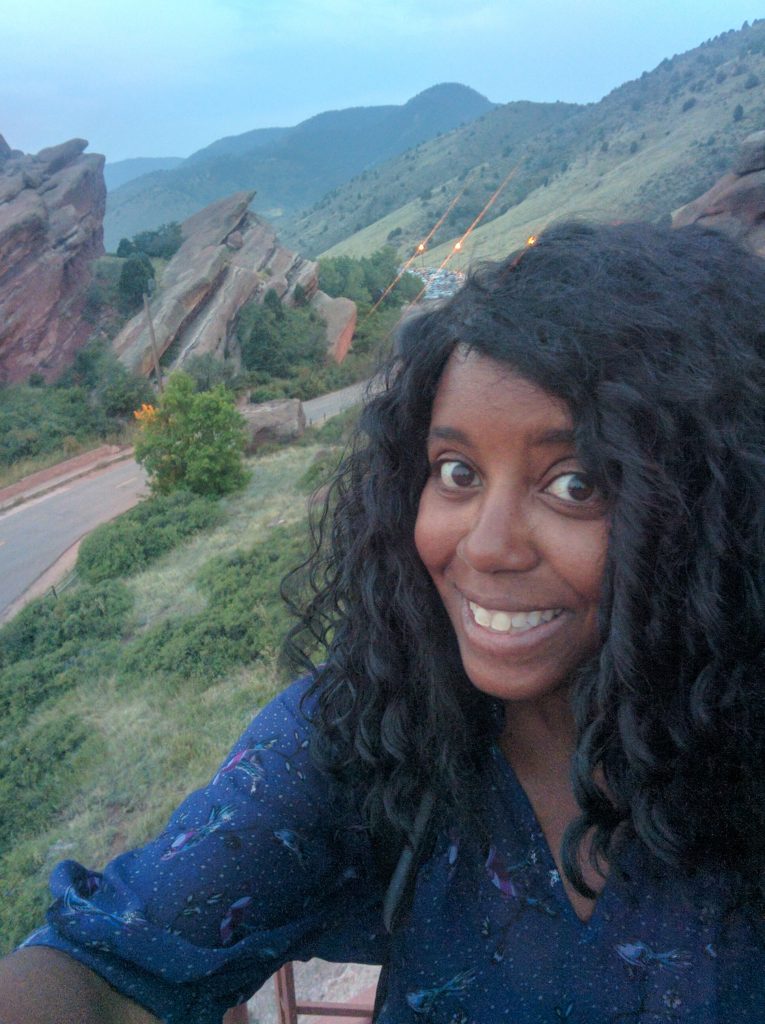 Colorado Mills Mall
On the way back to Denver, pop into Colorado Mills Mall. It has a number of outlet stores and large number of Colorado local businesses too. Some outlets include:
Adidas
Banana Republic
Calvin Klein
Coach
H&M
Francesca's
Please note: like with everything, stores do change. If you enjoy yummy coffee drinks, check out the following Colorado local business:
My favorite drink is the regular chai. Once you're all shopped out, it's time to return to Denver, freshen up and grab some dinner.
Dinner 6:00 pm (ish)
After a long day of hiking, shopping, and exploring it's time to eat. Here are some great restaurants to consider once you're back in town.
Day #3 Last Day in Denver
It's my hope that if you're in town sometime during the first 3 weeks in January, that you will check out the National Western Stock Show. Denver embraces its "Cowtown" roots proudly and the National Western Stock Show is a proud part of that tradition.
It continues to grow with record breaking attendance. Check out the rodeo, prize winning livestock, and meet honest to God Cowboys and Cowgirls.
Not feeling it?
Denver has an incredible art community creating murals, interactive art experiences and more. If you can't make it to Santa Fe for Meow Wolf, Denver may be the Meow Wolf Experience for you.
This is the most kitschy place ever. Think indoor divers, western gunfights, and other campy experiences that every Colorado child and adult has enjoyed throughout the years. Let's be clear, you won't be eating there…but, you do have to buy one of the food offerings. Casa Bonita, while fun, is NOT necessarily known for its food.
You've been warned.
This cute little area also has one of my FAVORITE places to eat-and, it's gluten-free. If you don't feel like driving, you can take the light rail to the Louisiana and Pearl Street Light Rail Station. Then walk down Pearl Street. It has local shops, a great (slightly expensive) woman's consignment shop, and it's just an area where real Denverites actually hangout.
Arepas are a Venezuelan staple and Quiero Arepas is a certified gluten-free kitchen. I cannot express enough how yummy they are.
After you've enjoyed your meal, head over to Washington Park and get a nice walk in around the park.