72 Hours in Denver for Frugal People-Winter Edition
A couple of weeks ago I was hanging out in Breckenridge, Colorado one of my favorite mountain towns in the state. While there, I meet a surprising number of British visitors who were in town on vacation. What caught me off guard was when they mentioned how expensive they found everything. Huh? You're from Europe! I used to live in Europe and I've spent time in the UK-it is not cheap. So, this observation really surprised me. So, I thought I would share a fun itinerary for frugal people and share some of tips to 72 hours in Denver for frugal people.
Welcome to Square State! If California and Texas had a wild love affair-Colorado would be the result.
* In order for me to support my blogging activities, I may receive monetary compensation or other types of remuneration for my endorsement, recommendation, testimonial and/or link to any products or services from this blog. Please read my disclosure here.*
Thinking About Starting a Website About Your Favorite Places?
It's pretty simple to do and cheap! Start with Siteground and WordPress.org. With this winning combination you'll own your own website by the end of the day. And, Siteground has easy to follow tutorials to help you with setting up your site. Also, don't forget to grab 120 Awesome Blog Ideas from Ruth Soukup's Elite Blog Academy today
Listen to the Show
72 hours in Denver for Frugal People.
Looking to spend three days in Denver? The following itinerary is from Friday through Sunday.
Here's how to prepare for a visit to Denver during the winter months. Winter months would be any month that it may snow. Basically, September-June.
I'm serious.
Don't freak out.
Watch the weather report obsessively before you come. OBSESSIVELY. Colorado has the amazing ability to have 4 seasons in one day.
Layers are your best friend. Period.
Denverites are casual. You won't be judged if you're wearing jeans and a cute top out-even to the theater. I personally still dress up, but, there is no pressure to do it.
Chapstick-your lips will thank you.
Sunglasses-It is incredibly sunny in Denver and the sunlight can be a bit intense.
A water bottle-It is a mile above sea level. You WILL need to drink more water than what you normally drink.
Lotion-Your skin will thank you. There's nothing worse than the feeling of dry skin when coming from a humid location.
Check Eventbrite for fun free events a couple of weeks before you arrive.
Now that you've packed your Colorado essentials it's time to get on that plane.
Resources Mentioned
Ibotta-Download the Ibotta app today CLICK HERE and earn $10 towards your first $20 payout when you redeem your first savings in the next couple of weeks.
Ritual App-Pre-order your food and pick it up. Avoid the line!
Airbnb-Are you new to AirBnB? Use my affiliate link to save some money on your first booking (up to $55)
Similar Posts
72 Hours in Gluten-Free Denver
Welcome to Denver!
It's possible to have a frugal trip to Denver. I'm about to share how.
When you fly into Denver International Airport it's a quick 37 minute train ride from the airport to Union Station which is in the heart of Denver. The train costs $10.50 one way which is more expensive than Chicago's train to O'Hare. But, it's the train or a $45 Lyft or Uber ride. Pick your poison.
The train is super safe and security walks through to check your fare TWICE. Safety Tip: Ladies, please do me a favor and arrive after 6:00 am. I hosted a financial retreat this year and one of my speakers landed at 1:00 am and I was up all night worried about her because Denver-especially because she decided to stay at a hotel that I wouldn't have recommended. She confirmed her arrival and then I learned that she was transferred to another hotel because they overbooked the first one.
Didn't know that was a thing? It is, so at 2:00 am in the morning she had to make her way to another hotel. Danielle-I'm calling you out LOL!!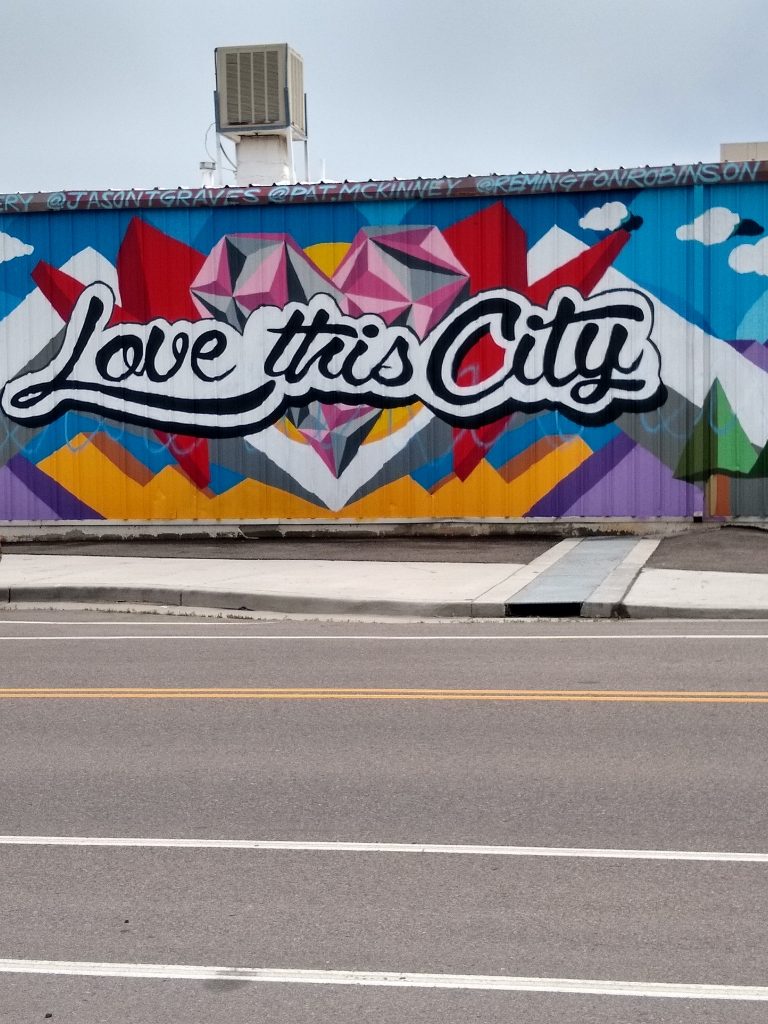 Friday 8:00 am
Once you've arrived in Downtown Denver I recommend the following two hostels-I need to do a walkthrough of the third one in town before I can recommend it.
Hostel Fish which is within walking distance of Union Station
Ember Hostel which is a 10 minute Lyft ride from downtown or you can take the #10 bus from the Bus depot below Union Station and get off at 12th and Grant street. The Hostel is 4 1/2 blocks from that stop.
Time to Sightsee: Friday, 10:00 am
Now that you've settled in what to do first? Head over to the 16th Street Mall for about an hour or so. Make sure to check out the public art tucked into the alleys. There's even a giant Smiley Face and Car Fresheners that you can discover.
Check out an unusual free museum that very few Denverites know about it. The Dikeou Collection. It's one of my favorite permanent installations in town that only true arts lovers in town have seen. The highlight? Two Giant Rabbits that look they could potentially eat you.
Larimer Square at 14th and Larimer is a historic block that also has cats everywhere! Not real ones, but there is a public art installation with cats lounging in funny locations throughout the block and alley behind it. If you're getting a little hungry, download the Ritual App and earn $10 towards your first meal on the app.
Brought food from the hostel? Hang out at Union Station while you eat your meal. Walk over to one of my new favorite places in Denver RINO (River North or, if you grew up here, 5 Points). I won't pull you into our local stuff…
Once you're done with lunch walk over to RINO to check out all of the murals in that side of town. It's one of my favorite things to do and I especially love the Crush Walls event that happens in September. Crush Walls brings artists from all around the world to paint new murals throughout that section of town.
Yes, you've walked a lot.
And, you'll notice that even though it may be chilly out, Denverites enjoy being active. You will see people walking, biking, etc. If your Denver friends talk about going for a walk-they mean going for a walk.
Backyard on Blake: Friday, 2:00 pm
If you're needing to sit for a bit and have a nice cup of coffee, this is the place. It's a mixed use space including a restaurant, coffee shop, co-working space and more.
I go for the great coffee at Blue Sparrow Coffee and to sit on the upstairs patio that has a phenomenal view of the mountains. I feel like many visitors to Denver miss out on the awesomeness that is the Backyard on Blake.
Walk over to the 28th and Larimer B-cycle kiosk and ride your bike back to Union Station. Get the unlimited $9 day pass. Just make sure that you dock for every 30 minutes of use.
Friday, 6:00 pm
Make your way back to your hostel and relax for a little while. If you're there on the first Friday of the month, check out First Friday art events around town. The highest concentration tends to be on Santa Fe Boulevard. I really enjoy these because they are free, wine also tends to be served free or for a few dollars a glass, the people watching is awesome, and the art is fantastic.
Friday, 9:00 pm
Head back to your hostel and join in on the fun. If you're at Ember Hostel, soak in the hot tub before heading out. At Hostel Fish? Go to Ophelia's for live music. The best thing? The Hostel is right above Ophelia's. By the way, Ophelia's used to be a brothel back in the day and the decor is a nod to that history.
Let's Go to Boulder! Saturday, 8:00 am
No trip to Denver would be complete without some time in nature. Heading into the mountains is a normal part of many Denverite's regular routine. For a short trip, I recommend going to Boulder.
What to wear and bring shoes that are good for hiking, snacks, and water. DO NOT forget water.
Head over to Union Station and then downstairs to the RTD station (Bus Station) you'll hop on the FF1 bus-round trip tickets are $10.50.
Get off the bus at Baseline and Broadway. You'll see a Starbucks on the corner. You will walk WEST-towards the mountains on Baseline. You will walk until you hit 9th and Baseline. If you're not used to hiking, don't try to be a badass.
For a gentle hike, ask the ranger for suggestions. Please note: altitude sickness is real. If you feel lightheaded, woozy, etc. You may need medical attention.
Once you're finished with your hike.Walk down 9th Ave until you cross Canyon Blvd. You'll walk two more blocks until you hit Pearl Street again.
If you're hungry, and I'm thinking that you should be, here are a couple of places that I recommend. Before I do, I'm going to keep it real and say that everything will be around $10-$15 for your meal. Boulder isn't cheap.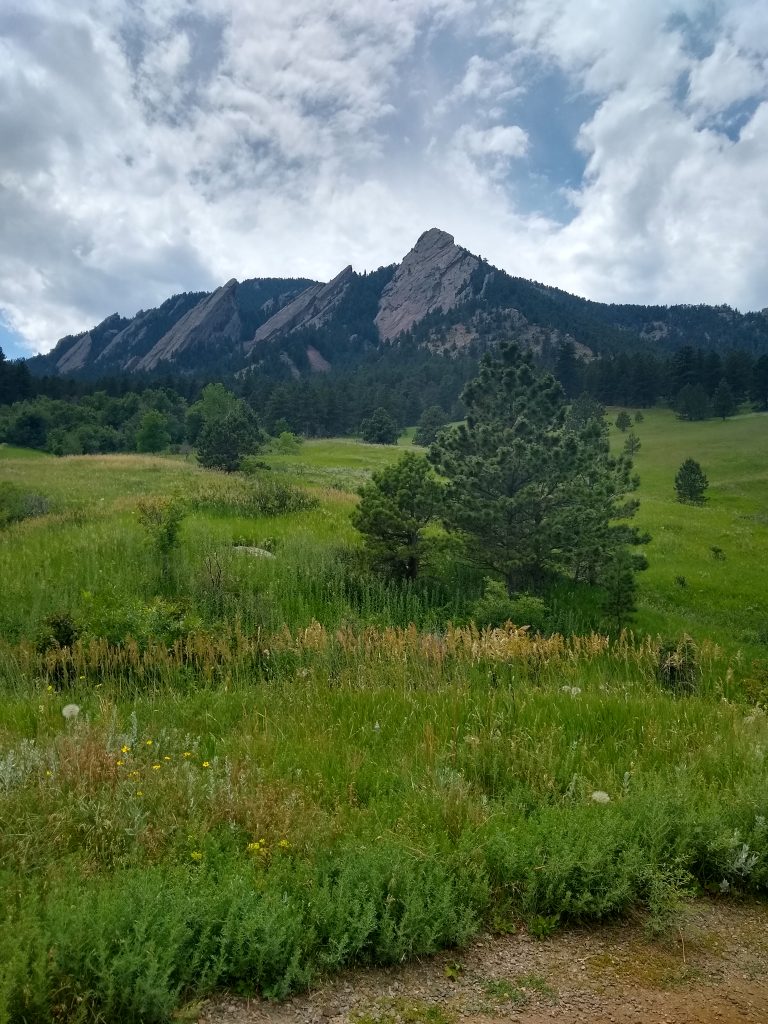 Head Back to Denver 2:00 pm
Head back to the Downtown Boulder Bus Station and take the bus back to Denver. Get off at the last stop which is Union Station.
Take a load off for a couple of hours shower and change before heading out again.
Saturday, 7:00 pm
You've kept things frugal so far, so a good cocktail sounds like a plan. Head over to The Dairy Block and wander through Milk Market and the Alley on the block (it's really pretty). Then, go to Run for the Roses a Speakeasy located on the block.
What happens from there is up to you LOL!
Sunday, 10:00 am BRUNCH!
There's nothing better then having a leisurely brunch. And, my favorite places to eat brunch are the ones with patios.
Here are 5 of the Best Brunches in Denver. Head's up, you might need to call a Lyft.
Sunday, 1:00 pm Olde Town Arvada
Take the lightrail (The W Line) from Union Station to Old Town Arvada. It's a cute downtown area about 15 minutes by train from downtown Denver.
Additional Frugal Tips
Here are some events to check out while you're here. These are free or inexpensive and I've included the month that they happen.
Night Lights Denver! This is my new favorite thing that is happening in Downtown Denver. Thursday-Saturday art will be projected onto the Daniels and Fisher Tower downtown. Check the website to confirm the dates. Free
Parade of Lights-December 6 and December 7th-watch bands, fire breathers and more, parade through the streets of Denver. Free