B-Cycle Your Way Around Town
I am an avid bicyclist. Every since I started learning how to ride a bike when I was four, I've always enjoyed seeing life from two wheels. Colorado has a great competitive bike racing culture and a strong bike riding culture in general.
If you decide to visit Denver (or Boulder) during the warmer months  and enjoy riding your bike, you can take advantage of the B-Cycle bike sharing (rental) program. Throughout those two cities you will find a series of stations where you can pick up or return a bike that you rent and ride around town.
I would say that if you don't know how to ride a bike have a friend work with you for awhile before unleashing yourself on our streets!
Here's a B-Cycle Station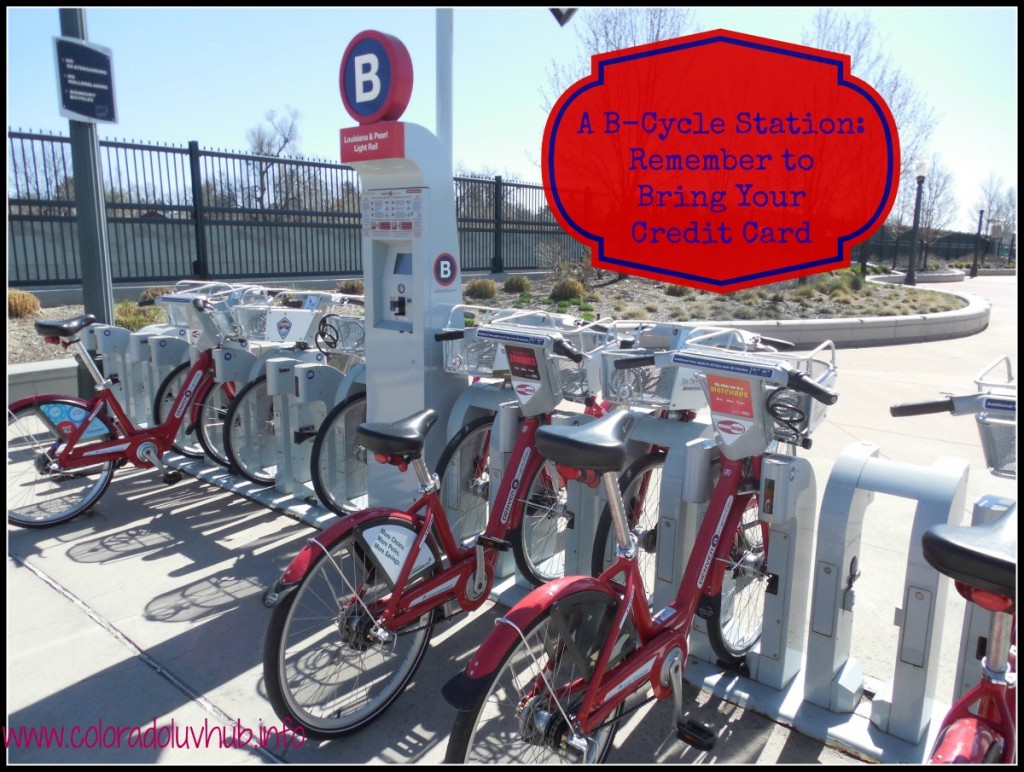 There are a couple of things to keep in mind when riding your bike around town.
Denver specifically, seems to have a very high rate of hit and run accidents. It seems like every week there is a report of someone being hit crossing the street and subsequently killed by a driver that we can't find.
Be Cautious!
Just exercise extreme caution when riding your bikes especially if you're riding in the streets-even in the designated bike lanes.
Bring water, it is very, very dry in Colorado you risk dehydrating pretty quickly especially during summer. Keep a bottle of water with you and there is a cute little basket on your bike so you don't have to worry about holding it while riding.
There are designated bike lanes on the roads, while my understanding is that other cities are a bit more bike friendly, I think that the biking culture is improving in Denver.
Tour De B-Cycle
I just learned about this when researching B-cycle for this post. You basically ride to all of the B-Cycle stations throughout the City and check into each one. You do win  a prize if you complete it and basically are pretty hardcore if you manage this. There are a ton of stations, so I'm pretty impressed by anyone who manages to do this. If you do, email and let me know!!
Biking your way around town is a fantastic way to see a city from a totally different angle. Whenever I'm riding my bike I discover: new coffee shops, new book stores, markets, and once I saw an eagle eating  a squirrel-really!
It just changes the pace of your trip and slows it down so that you can take in more than just the typical touristy things that you would normally seek out.
Seeing a city by bike allows you discover the hidden gems known about by residents, and not covered in tourist guides.
I hope you check out B-Cycle and spend a couple of days riding around town discovering what we have to offer.