Ultimate Guide to Meow Wolf Denver when You Only Have 72 Hours in Town
If you've never heard of Meow Wolf it's time for you to pull up a chair and read on. It's the definitive immersive art experience in the United States and rivals similar experiences throughout the world. Meow Wolf's original location is in the picturesque town of Santa Fe, New Mexico. It's second location opened in late winter of 2021 in Las Vegas. It's third location, a massive space built in-between two highways will open in my hometown of Denver and I'M SO DANG EXCITED ABOUT IT. If you love immersive art experiences as much as I do, but only have a short period of time in town this guide will give you some suggestions on what to do, where to stay and eat while you're in town for Denver's Meow Wolf Installation.
* In order for me to support my blogging activities, I may receive monetary compensation or other types of remuneration for my endorsement, recommendation, testimonial and/or link to any products or services from this blog. Please read my disclosure here.*
Thinking About Starting a Travel Website?
It's pretty simple to do and cheap! Start with Siteground and WordPress.org. With this winning combination you'll own your own website by the end of the day. And, Siteground has easy to follow tutorials to help you with setting up your site.
General Tips for Visiting Denver
Denver is a high altitude location. Yes, the city of Denver. It's called "The Mile High City" for a reason. Altitude sickness can occur while you're in town. Take this seriously.
If you have health conditions talk to your doctor about any concerns you may have about being at high altitude.
Don't try to duplicate your normal fitness routine when you first arrive. Relax.
PLEASE don't assume every Coloradan smokes pot. It's really annoying. Also, we DON'T care if you do. You don't need to whisper and giggle about it. Cannabis shops typically have a green cross on them. Do your research prior to arrival. I recommend Simply Pure a company owned by a Black woman. It's located in the LOHI (Lower Highlands) neighborhood of Denver. Fantastic location to explore while you're in town.
Do drink a lot more water than you're used to.
Don't try to eat what you would eat at home. Especially Southerners. I only recommend 3 restaurants for Southern Food here in town and ONLY for people living in Colorado.
Don't just spend your time only on 16th Street Mall. Spend 2 hours and then check out some other parts of Denver.
Like many cities in the United States we have unhoused Coloradans. It's likely you may notice this. Do not take pictures. They're human beings down on their luck (I've noticed this trend and think it's pretty shitty)
What is Meow Wolf Denver ?
It's actually called "Convergence Station." It's in a cool and slightly random location. You may have seen a strange space ship building squished in between two roads. If you're heading to Empower Field at Mile High or heading East on Speer towards downtown-you'll see it. Meow Wolf Convergence Station is a 90,000 square foot building that has the following amenities:
Concert venue
Retail space
Food
Sneak Peek Behind the Scenes
Cost: $45 (ish) Tickets at the Las Vegas location and $35 for the Santa Fe location. My guess is that the tickets will be on the higher end and may even be around $55 (Colorado prices, am I right?)
COVID Protocol-This will be changing constantly. At the time that I'm working on this post mask wearing is basically required in the state of Colorado inside shared spaces. Fortunately, Colorado has a pretty high vaccine rate. If you're visiting from out of state you'll find that most Denverites are very comfortable discussing their COVID vaccination status. They may not necessarily say anything if you opt to be mask free. But, it's very likely that local venues will still continue to require masks to enter. Don't be a douche and talk about what you do in your state. We don't care. Just suck it up and bring a mask just in case (or, you'll end up buying one) I'm sure they will be happy to sell one to you.
Getting to Meow Wolf Denver
I'm a huge fan of using public transit, riding my bike or walking whenever possible around town. For Meow Wolf I think that the two easiest modes of transportation will be:
By car-In my view parking is a little limited for a facility of this size. My recommendation is to park along the light rail line and then take the light rail to Meow Wolf. Also, it's a slightly tricky location to get to if you're not familiar with that part of downtown Denver or are from out of town.
Light rail-There are two light rail stops that serve Meow Wolf Convergence Station. If you've ever taken the light rail to Empower Field at Mile High you're likely familiar with both. Purchase the $6 ticket which is good for 24 hrs. You can purchase your ticket before you get on the light rail. The fares are checked at random. Don't try to game the system. Just purchase your fare before getting on the light rail.

Colfax and Federal Transit Center-In my opinion, this is the closer stop and will take a maximum of 7 minutes walking over to Meow Wolf. There are sidewalks in this area and is wheelchair accessible
Mile High Station-If you get off at this stop (where a lot of Broncos fans typically exit the light rail to go to a game) it will take about 10 minutes to walk over. It is wheel chair accessible as well.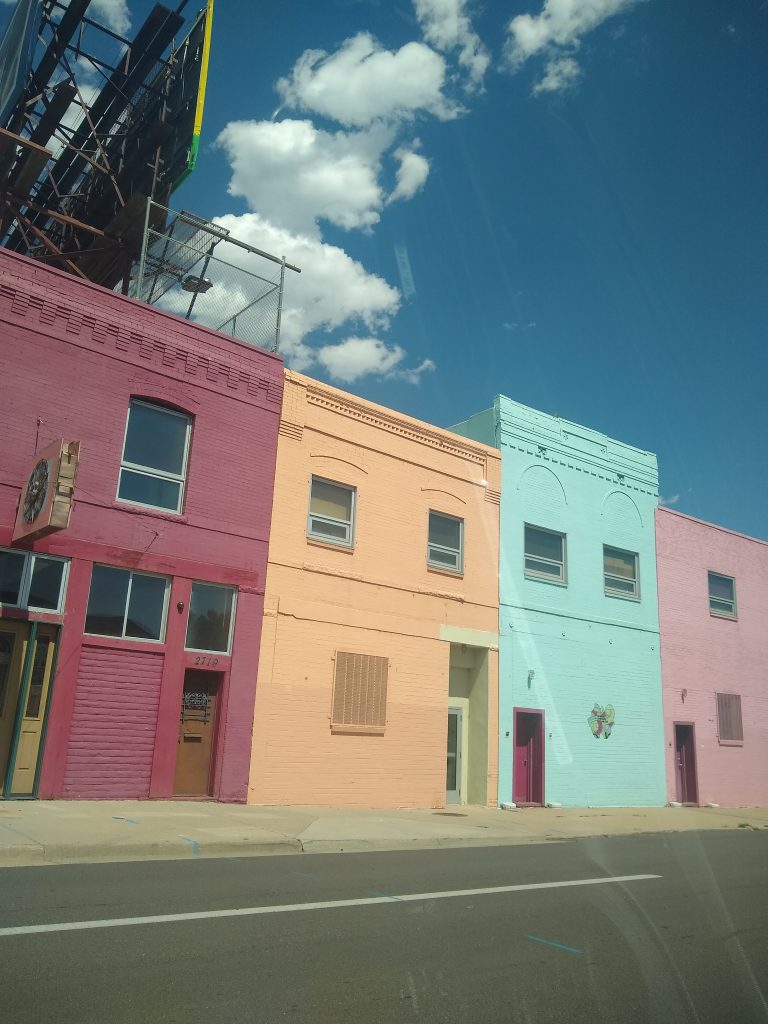 What to Know
There are some important details to be aware of before you visit.
Read the website when you purchase your tickets. The website details the following:

How timed ticketing works
If you can reenter the building (likely no)
The refund policy
What you're allowed to bring inside-very little.
Have large items such as a stroller or large backpack? You might not be able to bring them inside.
Don't bring drugs…they are checking…
The neighborhood does have a couple of breweries that you can check out but it's not the type of neighborhood that has a ton of stores and shops. Basically, you won't be roaming around afterward.
Meow Wolf Denver-The Facility
This is the third Meow Wolf location. It's also the largest and I love that in many ways having this experience open in Denver helps to remind people that Denver is truly and arts town.
What exactly is Meow Wolf?
Meow Wolf is an immersive arts experience. Attendees get to interact with the art and become a part of the exhibit. It's absolutely a family experience but I would avoid bringing small children (I actually would check to see age limits).
Meow Wolf Denver will also host LIVE MUSIC. Your favorite musician may choose to perform at Meow Wolf. Be prepared.
There is also a food hall within the facility providing food and beverages (including alcohol). Vegans and vegetarians there is food available for you and a kids' menu.
Tentative Budget
Go online to get a feel for what you may end up spending that day. Here's what I would spend for one person:
$45 adult ticket (anyone over the age of 14) *children's tickets 5-13 are $40 dollars
$35-$45 for food at Meow Wolf if I opt for alcohol
Swag (?) I normally don't buy swag but you never know. I could see people EASILY dropping $100 on swag
Tentative Total:
$200 a person if you purchase swag and eat at the venue. You'll save quite a bit if you avoid doing those two things. OR, just account for the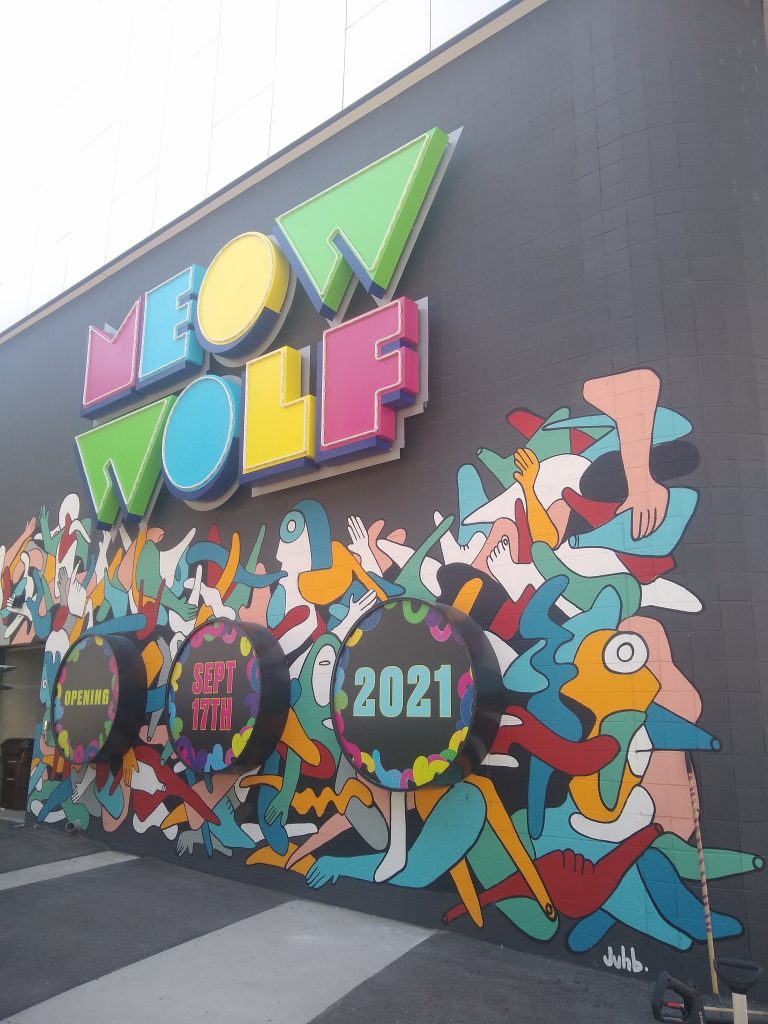 Where to Stay in Denver
I thought I would recommend hotels and hostels that were a bit "Arty."
Where to Eat
While you're in town you'll likely want to check out some of the local eats. Here are some of my favorite places to recommend. These are all Colorado local businesses serving a range of different styles of food.
What To Do
Immersive Van Gogh Exhibits (yep, there are two!)
Check out the murals in the RINO neighborhood
Enjoy a Cocktail or a Beer
Coloradans are known for winding down over a nice cocktail or beer. Below are some of the great places to enjoy one.
MPB (Moods, Beats, Potions)
Prefer a Mocktail?
Not drinking alcohol while you're visiting? There are some great places to enjoy a delicious mocktail.
Awake Denver-Full mocktail bar
Honey Elixir Bar-Does serve alcoholic beverages in addition to mocktails
Gruvvi-Keep an out for their next pop up or permanent tasting lounge. Love this Colorado local company. You can also pick up some Gruvvi prosecco or rose around town. Click on the finder to find the location product closest to you.
I'm so excited about Meow Wolf Denver. I think that many people consider Denver a sports town and it is. But, Denver is also very much and arts and culture town. We have the second largest theater district in the nation, have the SCFD which is a tax payers initiative that we keep passing to fund the arts and create accessibility to the arts for everyone in the Denver Metro area. For many people who aren't excited about nature or sports Denver Meow Wolf gives visitors and opportunity to design a 100% arts focused vacation while in town.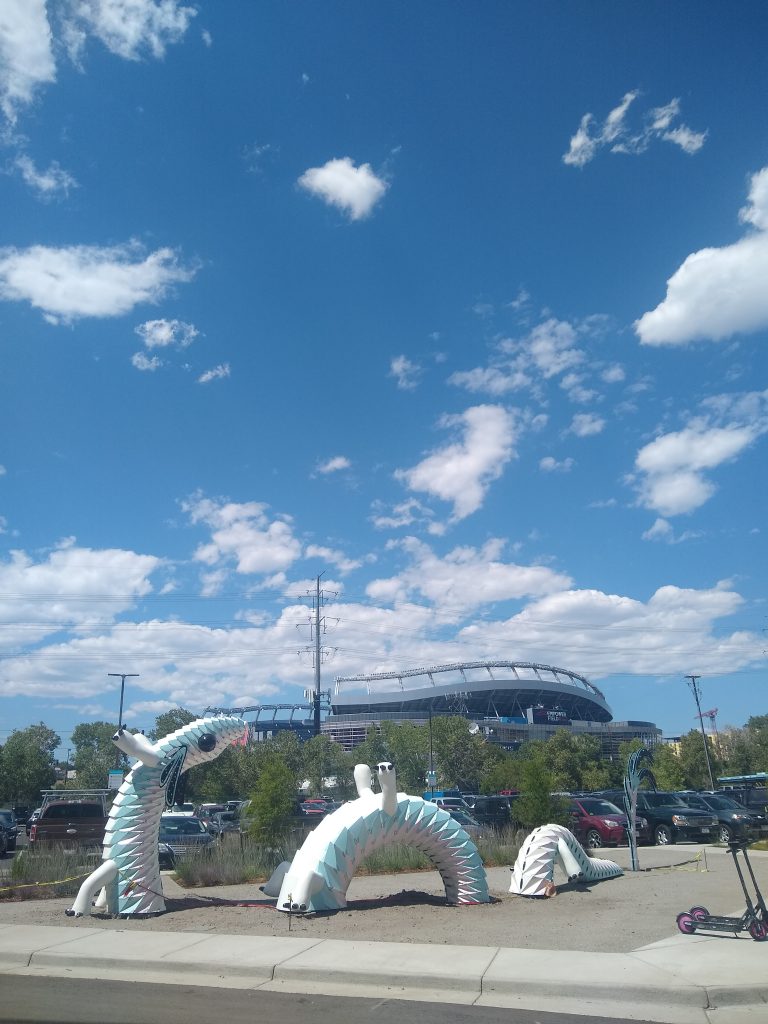 Related Posts