Every time I travel outside of my state I'm asked where am I from. This is a normal line of questioning. But, what happens almost every single time, without fail, is that people are completely confused when I tell people that I'm from Colorado…and I grew up there. They always look so confused and I feel like I end up staring back at them like the Puff Daddy meme that we've all seen on Twitter. By the way, this is an incomplete list.
* In order for me to support my blogging activities, I may receive monetary compensation or other types of remuneration for my endorsement, recommendation, testimonial and/or link to any products or services from this blog. Please read my disclosure here.*
Many people are surprised that there is a rich and long-standing history and community of Black people who have lived in Colorado and made a difference to the state.
If you're thinking about visiting, I strongly encourage you to do so and thought that I would share a few itineraries that intentionally included POC and allied spaces to check out as you explore Denver, Aurora, Colorado Springs and beyond.
Thinking About Starting a Travel Website?
It's pretty simple to do and cheap! Start with Siteground and WordPress.org. With this winning combination you'll own your own website by the end of the day. And, Siteground has easy to follow tutorials to help you with setting up your site.
Before You Go
I strongly recommend that travelers visit Fall-Spring and avoid summer trips if at all possible. I've included a link to a post that I wrote sharing How Global Warming May Impact Your Colorado Vacation.
Here are some tips to help you plan your trip.
Working on your fitness to prepare for those mountain hikes? Fit and Nu is the first gym for created for and operated by women of Color here in the state of Colorado. You can take either in person or online classes.
Related Posts
Colorado is a high elevation state. That includes Denver-which is called also the Mile High City. The further west that you go (basically-going into the mountains) the higher the elevation. If you have any medical conditions speak with your doctor about what to anticipate when traveling at a higher elevation. Most people way underestimate how elevation will affect their bodies and the most common complaint that I hear about trips to Colorado is related to altitude sickness and not feeling well during a trip.

Take it easy while you're here
Drink water, more than what you typically do
Don't resume your regular exercise routine when you arrive. Wait at least 3 days and still take it easy.
If you're dizzy or have a headache pay attention to that. Those could be signs of the beginnings of elevation sickness.
Adrian Miller-The Soul Food Scholar. You would have seen him in High on the Hog.
72 Hours in Denver When You're Meat-Free
What to Bring
Dress however you would like but definitely bring several pairs of casual/fitness clothes. Especially if you're visiting friends you will end up moving around quite a bit walking, biking, or maybe a hike. There isn't pressure to dress up, but if you enjoy dressing up absolutely do!
Travel sized black hair products. The Black Travel Box is a Colorado local business that you can order products from.
Sunglasses-It's really sunny here
Water bottle-It's dry here LOL!
Where to Stay
I have a couple of properties that I love to stay at and like to shout out. Also, this website tries to always start with Colorado local businesses as I like to support local companies and keep the dollars circulating longer in town.
The Source Hotel–I really love this hotel and the staff are wonderful. It's 2 blocks from the 38th and Blake light rail stop and part of a retail development as well. It's also within walking distance (about 4 blocks) to Zeppelin Station which is a food hall and has a bar as well. There's also a saline pool on the roof top patio with an insane view of the mountains. And, if you're a beer fan-it has a brewery as well. I also hosted my first in-person financial retreat there and would happily host it again at this property.

The light rail is safe and has a constant security presence. ALWAYS buy your ticket. The one time you don't is the time that security walks through the train.
The Maven Hotel-This hotel is part of an incredible retail development. It has a ton of beautiful art, is a few blocks away from Union Station and Coors Field and is a great place to as a base for your trip.
Hostel Fish-I'm a life long hosteling enthusiast and really like Hostel Fish. This hostel is located 2 blocks from Coors Field and is close to a bar district. COVID has changed a lot of things.
Ember Hostel–Funny story, I've actually stayed at the Ember Hostel (1 night) when I was getting some plumbing work done on my place and it took longer than expected. It's a great hostel located in the Capital Hill district.
Arriving From the Airport
Denver International Airport has a train that travels from the airport to Downtown Denver's Union Station. I STRONGLY recommend taking the train vs. taking Uber/Lyft from the airport. You will have problems trying to do this.
The train is faster. It takes 37 minutes from the airport to downtown. It costs $10.50 and that ticket works on all public transit for the entire day. There is security on the train and they check your ticket typically 3 times before you arrive at Union Station.
Most Coloradans take the train and then will schedule a Lyft or Uber from Union Station.
Lyft has the larger corporate presence in Denver. They have a massive corporate office here.
If you insist on taking Uber or Lyft from the airport please pre-schedule it. Especially if you're arriving late in the evening. Most drivers do not "hang around" the airport because of the distance to town and because most people take the train.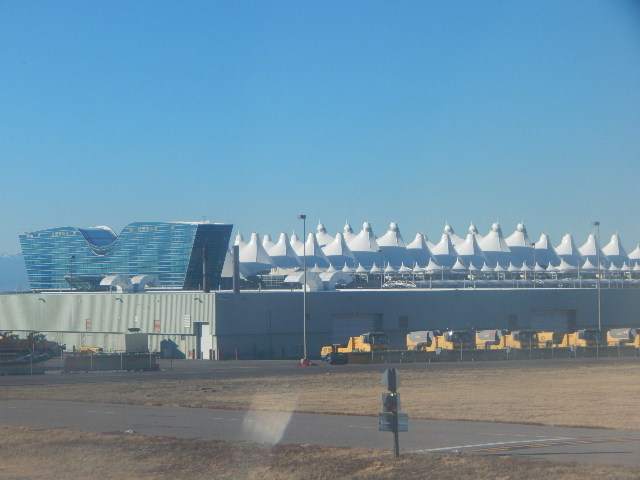 Day #1
Your first and second day in Denver I recommend that you take it easy. Check out Mimosas for brunch. You can take a ride share or walk if you're in downtown Denver. Or, a scooter. But, I hate scooters, you can read why HERE.
For those of you who are cannabis curious. Check out Simply Pure. Wanda James and Scott Durah are the co-owners. Wanda also happens to be the first woman of color in the United States to receive a legal cannabis license (which are incredibly difficult to get).
Need some fun yummies for your munchies? Go to It's a Bodega a Black owned snack emporium of unique snacks, candies, cookies and chips from around the world. My favorites are the TimTams. If cannabis isn't your thing (it's not mine) let's move on.
Need to get your mind right? Take a yoga class at Urban Sanctuary. This yoga space serves black, brown and allied yogis looking for a welcoming space to get your shavasana on.
If you're ready to go shopping, head to the 41st and Tennyson (Berkeley Neighborhood) area. This cute little shopping district is one of my favorite parts of town and I continue to be amazed by how it constantly gets missed in travel content. While there, pop into Lariat, a Black owned boutique, with Colorado inspired fashion (I've met the owner in case you're wondering LOL!)
For lunch head back over to Five Points to Welton Street Cafe for some soul food. This restaurant has been a long-time mainstay in Denver's food scene and Five Points neighborhood.
Want to learn how to use fire arms safely at a Black Owned range? Denver's 1770 Armory instructs African-Americans in the safe handling of weapons in a welcoming space.
Denver is home to an incredible community of Slam Poetry artists who perform as the Slam Nuba team. If they are performing while you're in town I strongly recommend checking them out. They cut heads.
Pop into Whittier Cafe for a great cup of coffee. African owned, all of the beans are African and if you're lucky enough to be in town for the Ethiopian Coffee ceremony let me know. They serve pastries, oatmeal and burritos. Basically, typical coffee shop fare.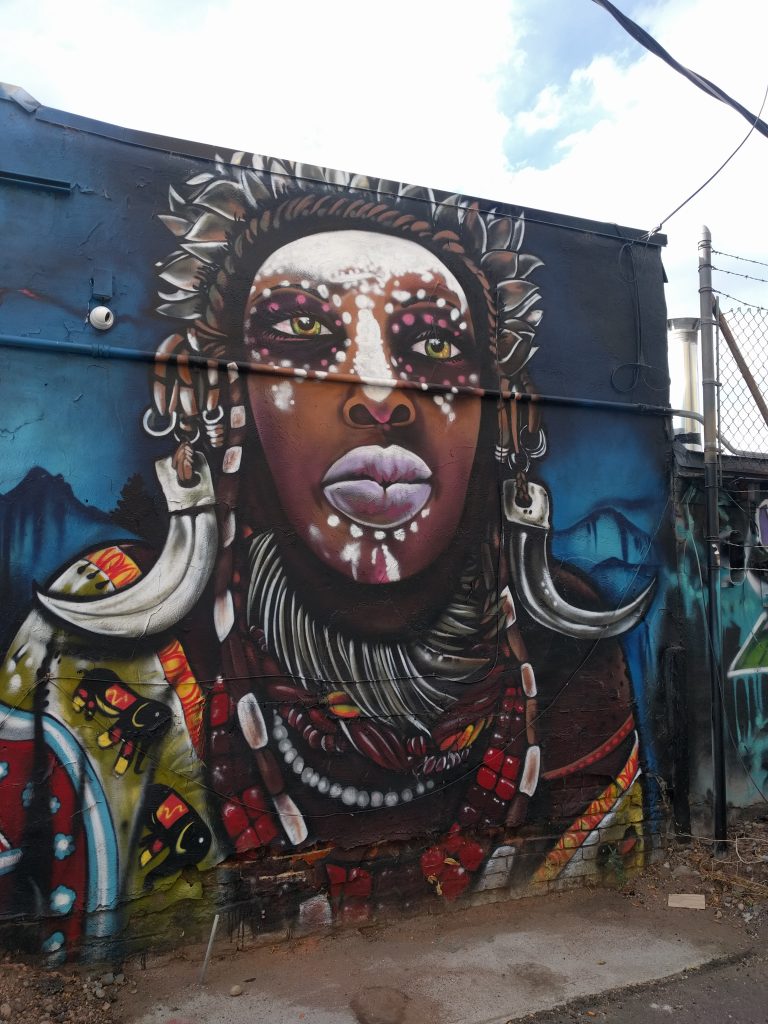 Day # 2
Check out Meow Wolf Denver (opening Fall 2021), an immersive art experience that is opening this Fall. It's the third location for the Meow Wolf Art Collective with the original in Santa Fe and the second location in Las Vegas-it's that massive weird grocery store that you've probably heard about.
Craving some BBQ? Head over to Boney's BBQ on the 16th Street Mall. They are open even if the website isn't working. But, be warned, they close when the food is gone. They open at 11:00 am.
If you're craving some ice cream stop by Smith and Cannon Ice Cream, Walia Creamery or MyKings Ice Cream or Sweet Sweetz.
What to Do
Check out the Museum of Contemporary Art-Currently has the Black in Denver photo display. This exhibition will end on August 22, 2021. The Museum of Contemporary Art is the first building designed by an Afro European architect in the United States.
Denver Art Museum and check out Simphiwe Ndzube's exhibit in addition to other incredible curated exhibits at the museum.
Museum for Black Girls-I visited the second location…right before COVID hit. Literally weeks before. Then, I had a wonderful conversation with the amazing curators of this space. If you're visiting Denver with your girlfriends or daughter, this is a wonderful place to check out. I was also very fortunate to be shown the second location by the 10 (?) year old daughter of one of the curators. Seeing the exhibit through her eyes really moved me and made the experience even richer. This pop up changes locations and a second exhibit is opening in HOUSTON!
Black American West Museum and Heritage Center-Denver and the West has a long history of Black Cowboys and Black settlement. This museum shares that history. Right now it's closed because it's being renovated but I will update this as soon as it reopens.
National Western Stock Show-MLK Jr.African-American Heritage Rodeo this will take place in January 2022. Again, Black cowboys and cowgirls STILL exist. If you're in town in January make sure to have it coincide with this event if possible.

There is also the Mexican Rodeo Extravaganza too!
Sports
We have A LOT of sports teams in Denver. If you're into sports, the venues are all downtown with the exception of the Colorado Rapids soccer stadium. Watch your favorite teams playing while you're in town. I've listed our professional sports teams below.
Denver Nuggets-Basketball
Colorado Avalanche-Hockey
Colorado Rockies-Baseball
Theater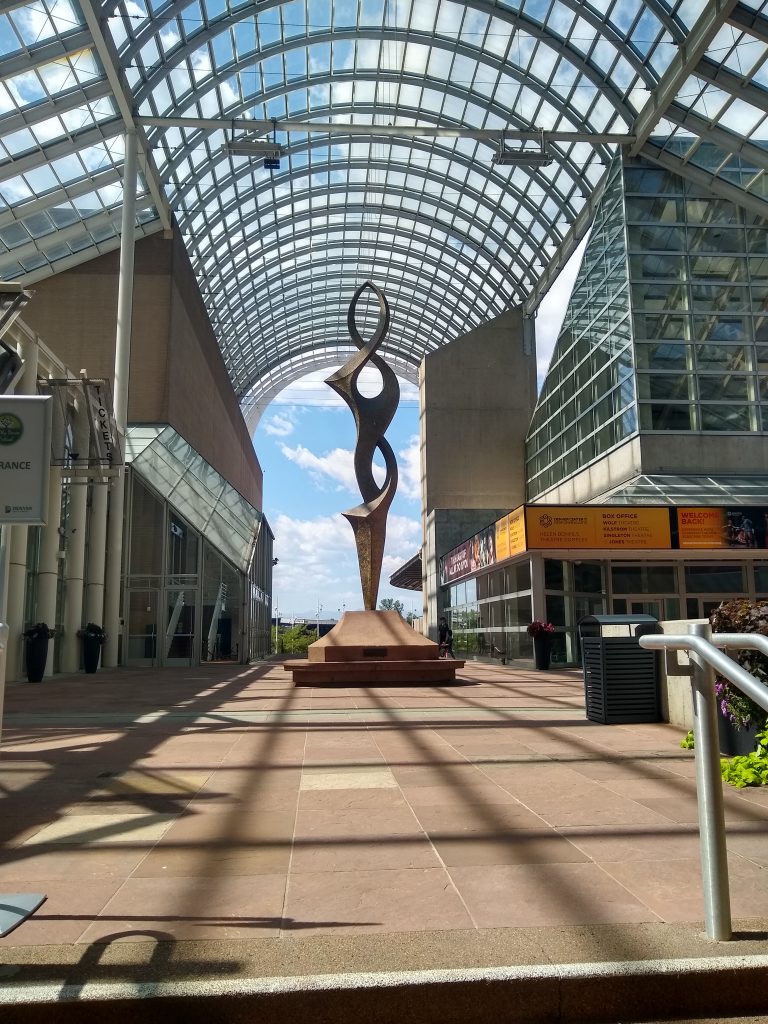 The arts factor heavily in our daily lives here in Denver and beyond. In fact, citizens have voted to fund the SCFD for over 30 years in order to provide free arts events for all Denver metro residents. That's why we have free days at museums, the Zoo, etc. Visitors aren't eligible LOL! But, this gives you some context for why there are so many murals, theatrical productions, etc. in Denver. Also, many national theatrical tours will debut in Denver after NYC. I've listed some shows that are coming soon.
You could also drop in a Cleo Parker Robinson Dance class if you enjoy dancing as much as I do.
For dinner, head over to Konjo Ethiopian Food in Edgewater Public Market. I absolutely love this development and think that not enough people know about it. There's a rooftop bar and an incredible view of downtown Denver and a lake. Edgewater Public Market also has a food court with other restaurants in it, shopping and a vegan fast food place with REALLY good vegan food.
Day #3
Looking to explore the mountains? Make sure to check and see if Outdoor Afro is hosting an event while you're in town. It's one of my favorite outdoor communities to do: hiking, backpacking, stand up paddle board, etc. with. There are chapters across the United States so also check and see if there is a chapter in your town. Here is the link to the Colorado Outdoor Afro group on Meetup.com.
Here are a couple of other outdoors groups for POC and allied folks.
Blackpackers and you can listen to my podcast episode with the founder, Patricia Cameron here.
Before you head out to enjoy your final day in Denver, grab a cup of coffee and a quick bite to eat at Coffee at the Point.
If you're on your own and you're not used to hiking pick a heavily trafficked, easy trail. Boulder's Chautauqua Park has a number of these trails. Do pay attention to the wildlife warnings posted at the trailheads. Hiking is a serious activity at altitude so don't be cocky. I don't want to hear about you on the news. And, yes, we hear about out of state visitors getting into trouble hiking all the time.
This is a MUST read-How to Hike Safely in Colorado as a POC
If you're not up for an actual hike but easy exploration of towns outside of Denver here are my quick day trip suggestions.
Boulder-I actually grew up in this town and while it may annoy me at times, it's just 40 minutes away from Denver and great for a couple of hours away from the city. Explore the Pearl Street Mall which is an outdoor walking mall. Check out Rosetta Hall (food hall) for a meal and eat on the roof top.
Golden-If you're looking for an old school "western" downtown Golden is a low-key option to check out. It's also 35 minutes from Denver and is home to great hiking, dirt biking and beer.
Estes Park-Nestled at the base of Rocky Mountain National Park, Estes Park is 1 hour 45 minutes from Denver. It's worth the drive and one of my favorite mountain towns. You will need a reservation to drive through Rocky Mountain National Park.
Breckenridge-I spend A LOT of time in Breckenridge. It is one of my favorite mountain towns. Here are a couple of reasons why.

It's not Aspen LOL! I've finally figured out why so many Black people are going to Aspen-influencers going. But, Aspen is not as welcoming as other mountain towns in Colorado. Period.
The people who live in Breck are really chill
It's a very welcoming space for POC travelers. I always see POC travelers of color both single or with families.
Good skiing and great hiking
One of my favorite hostels in the world is there (The Bivvi) and I stay at it all the time.
Isack Heartstone-He is a massive wooden troll that lives in the woods. I love visiting him every time I'm in town. If you have kids, this is a must do activity.
Happy Hour
Check out MPB (Moods Beats and Potions) for happy hour or dinner. MPB is a new business in the Five Points/RINO neighborhood. It looks like so much fun and I'm excited to check it out.
Quick Mention: Red Rocks Amphitheater
I'm obsessed with Red Rocks! It's the place where I've attended numerous concerts, taken yoga classes and watched Black Panther with a sold out crowd of 9,000 people.
If you're wondering if it's worth it to visit Denver just to attend a concert at Red Rocks? It is. It's a magical venue. You will need a car to visit. Or, you can pay for a shuttle service on the night of an event. You will be charged a premium to get to Red Rocks.
Last evening in Denver, it's time to eat. Here are a couple of places that I recommend enjoying before you leave Denver.
It's a Wrap
By now you've had a whirlwind experience in Denver and the rest of the metro area. I will be adding to this post with additional places to go and things to do as businesses open and close due to COVID. Hopefully, this post gave you some additional ideas of what to do and where to go while you're here-especially if you would like to support Black owned businesses