15 Reasons Why Australians Will Love Colorado
Currently, I am visiting the wonderful country of Australia. I have a number of Australian friends who have visited Colorado a number of times and I had the opportunity to visit them this year so I jumped at the opportunity.
As I traveled specifically between Sydney and Melbourne I took every opportunity to speak with people to find out more about their country and to see if they had ever visited America.
Nine times out of ten people would say to me the following when I asked them if they had visited the U.S.  "Yes, I've been to L.A. and New York City."
Now, I don't know about you but the U.S. is a HUGE country with so many amazing places that it stunned me to consider how much of  the rest of the country was being missed.
As I continued to travel around Australia I came up with the following: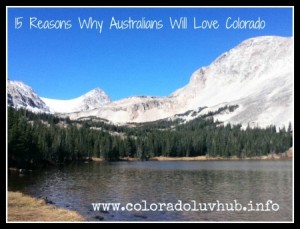 Sorry California, you're great…but, all of you are moving to Colorado. Which tells me that maybe we have more to offer with the exception of cold beaches. Australians aren't you bored going to L.A. and San Francisco? While Denver isn't super cheap by U.S. standards , you will still receive good value for your dollar while you're here.
Micro Breweries-

If you like beer this is your place. We are second behind Portland, Oregon for the number of micro breweries. In fact, we love beer so much we hold The Great Beer Festival every September. This event is so popular that it sells out the day the tickets go on sale.
Brunch

-We love a good brunch! There are tons of fantastic places to go eat brunch and if it's warm enough you can also eat outside on the patio or rooftop if your restaurant has one. Try a Bloody Mary or bottomless mimosa while you're at it!
We Love A Good Party

-We love any reason to party: St. Patrick's Day, Frozen Dead Guy Days, Comic Con Denver, Zombie Crawls, Tour de Fat, and the list goes on.
We're Sporty

-We love being active.  You will always see people: running, riding their bikes, going to gyms, going to yoga, skiing, walking, or rock climbing.
Mountains-

The mountains are gorgeous to look at and fun to explore. No visit to Colorado would be complete without a few days hanging out in a mountain town. Two of my favorite mountain towns are: Crested Butte and Breckenridge
Good Local Coffee

-Yes, we have a ton of Starbucks-but, we also have a ton of local coffee shops that pour great coffee. Ignore Starbucks and head to

Ink!

or

Dazbog coffee shops

(Ink! is my favorite)
Sports Galore

-If there is a professional sports team to be had-we have it! We have professional teams for: Basketball, Baseball, Hockey, Soccer, Football, and U.S. Rugby is headquartered in Boulder, Colorado. We also host a number of world class athletic events from the U.S. Pro Cycling Challenge, to the Major League Soccer All Stars Game and the National Hockey League Classic (huge outdoor professional hockey game)
Denver is Friendlier Than L.A.

-We are a lot more chilled out than Los Angelenos. We still have crappy traffic, but as a tourist you won't be commuting to work and can avoid dealing with that! We also have fewer people, and  no one will ask you if you're in the film "business"
Good Food

-Yes, we have really good food! Nope, not talking about burgers. I'm talking about restaurants that are ranked in the top rankings among American restaurants. It did take us a long time to get to this place but I promise you-you will eat well while you're here. Make sure to check out in Denver Work and Class, Uncle, Sushi Den, Bones, Vesper, and Comida (located  at the Source) To name a few. In Boulder: Bramble and Hare, Basta, The Mediterranean (specifically the tapas), and Salt to name a few.
Live Music-

While I have to concede that Austin, Texas is the "Live Music Capitol of the U.S." Denver and other Colorado towns have a pretty nice live music scene. Usually these shows are pretty cheap too!
Kid Friendly

-There are a lot of great activities for kids and I find Colorado to be a great place for kids in general. You shouldn't have a hard time finding a lot to entertain your kiddos
Excellent Transportation-

If you're in the city center you will probably walk everywhere but we now have a well connected system of public transportation. You can take: bus, light rail, cabs, Uber, or Lyft anywhere you would like to go. And, obviously, you can rent a car as you need it pretty inexpensively.
Theater

-Apparently we  have the 2nd largest theater complex in the United States and I believe this! I have had the opportunity to see some of the biggest shows on Broadway-in Denver (for less!) The Book of Mormon, Wicked, and Warhorse to name a few.
The People

-We are a pretty chilled out state and the people are very welcoming. We would be super excited to meet you and you will find us typically very helpful and friendly if you ask us questions. We are pretty quick to chit chat with new people and are pretty easy going.
Now, You Need To Visit Us And Discover All of the Other Amazing Things That We Have That I Didn't Mention In This Post!
*Click on the Following links to follow Colorado Luv Hub on Pinterest or Instagram!*