Sprouts Grocery Store Review
* In order for me to support my blogging activities, I may receive monetary compensation or other types of remuneration for my endorsement, recommendation, testimonial and/or link to any products or services from this blog. Please read my disclosure here.*
Weirdly enough, one of my favorite activities is going grocery shopping. I'm a live to eat person versus eat to live and I'm also a personal finance blogger-check out my other blog: Michelle is Money Hungry. As a result, I enjoy figuring out where to get the best deals when grocery shopping.
Download Ibotta First
Before you go on your next grocery run. Ibotta is my favorite savings app (and it's developed and headquartered in Denver). Here's my affiliate link! Get $10 towards your first payout when you sign up as a new Ibotta user.
I love saving on groceries, clothes, and (ahem) the occasional bottle of alcohol. Now that you have Ibotta downloaded it's time to shop at Sprouts.
Sprouts
Is one of the grocery stores that I regularly shop at. I like to purchase different things at different places and Sprouts stands out when it comes to affordable produce. In fact, Sprouts hands down has the best deals on produce out of the many different grocery stores that I shop at here in Denver/Boulder.
I also love the bulk spice area that offers affordable deals. I love to cook and enjoy using a pretty wide variety of spices. I pick up the majority of my spices from Sprouts because the variety and the prices are so dang good!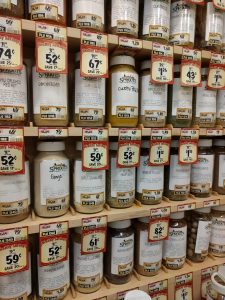 Most stores are typically small, airy spaces that are well-lit. I like that everything is easily navigable from wherever you may be standing in the store.
There are also great deals on meat/poultry/ and fish. But, I truly feel that Sprouts shines in two specific areas for me: produce and customer service. I can't say it enough, the team that at the Wash Park store is outstanding. They are easy going, nice, and professional. Whenever I need help, team members are helpful and are focused on answering any questions that may come up.
For new arrivals from the East/West you'll notice that we don't have stores such as Aldi's, Wegmans, and Food Lion. But, we do have Sprouts, Alfalfa's, Whole Foods, Safeway, and Natural Grocers to name a few. Each has its own strengths and weaknesses.
Tres Pupusas
While I'm on the topic of food, I thought I would share one of my favorite new Colorado made products! I had the good fortune of trying out several different flavors of Tres Papusas stuffed corn masa treats.
If you haven't had a pupusa yet-run, don't walk, to get these delicious treats! I've eaten several different flavors:
Black Bean and Sweet Corn (regular sized)
Jalapeño and Cheese-Right now these are my favorites. I really like spice so I'm always a bit biased towards spicier options.
I particularly enjoyed the crispiness of the masa and the fact that it takes about 10 minutes to bake them. Nope, no microwaving (I imagine microwaving the pupusas would give the masa a weird texture). Here is a link so that you can pick up some boxes if you're looking for a nice appetizer for your next party.